Sleaford Masterplan
Client: North Kesteven District Council
---
Partners: Steer, Urban Shape
---
Status: Completed 2022
---
Town centre masterplan investigating the area's vitality in light of the impact of COVID-19 and background trends since 2011; and update the original masterplan in response to these changes. The team translated the thorough baseline appraisal findings into a new masterplan by e
stablishing a new vision and overarching design themes which set the direction for sustainable growth and change. We then i
dentified a project bank of specific regeneration interventions and finally d
eveloped concepts and design principles for twelve of the most critical development sites in the town centre.
Mayflower Quarter
Client: Southampton CC
---
Partners: Tonkin Liu, Steer, Waterman, Urban Shape, Edge Consulting
---
Status: Completed 2021
---
A masterplan for a large 82ha city-centre site within Southampton. The project included spatial analysis, extensive stakeholder engagement, development of a vision, and production of a masterplan and associated design guidance to guide the transformation of the area into a leading sustainable quarter.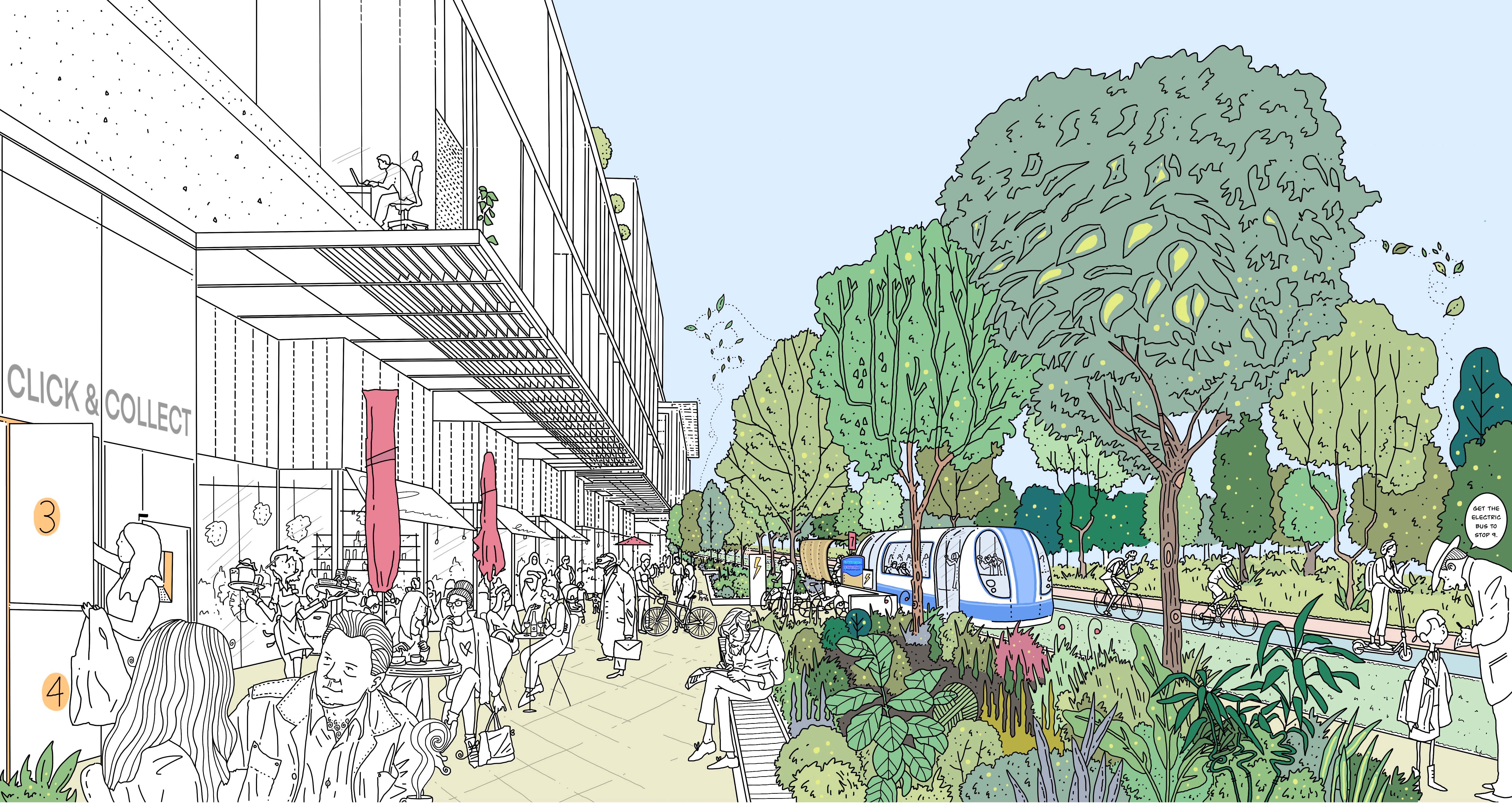 Redditch Town Centre
Client: NWedr
---
Partners: Steer, PRD, Waterman
---
Status: Completed 2021
---
A masterplan and capacity study for several sites within a town centre suffering from poor activation and connectivity. We built on an existing vision, set by a town board partnership, translating objectives into new spatial requirements.
Our approach to the physical regeneration of the area focused on a series of placemaking principles, aimed at re-establishing pedestrian permeability, maximising the sustainability potential of the new developments, densifying the town centre, and providing a robust civic infrastructure.
Bromsgrove Town Centre

Client: NWedr

---
Partners: Steer, PRD

---
Status: Completed 2020

---

Innovative thinking for two key sites in Bromsgrove town centre. We developed regeneration proposals to secure social and economic resilience in the context of the covid-19 pandemic. We proposed a range of uses to encourage new businesses and increase dwell time, through public realm enhancements and meanwhile uses. Our proposals combined commercially viable options while fulfilling a place-making ambition for a sustainable, vibrant and viable town centre.
Viinikanlahti Reflections
Client: City of Tampere
---
Partners: Jas Bhalla Architects, Expedition, Steer
---
Status: Completed 2020
---
Competition entry for an area of 40 ha in the centre of Tampere, Finland. Our exciting approach proposed a new neighbourhood built around the principles of integration, sustainable urbanism, and quality of place. We used the concept of 'reflection', echoing the lakes edge; an image of Tampere reflected back on itself (the concept sketch alongside illustrates our vision for the site). We propose a new neighbourhood that follows the logic and structure of the existing city, while providing a greener, energetic and sustainable district. Our masterplan seeks a conversation with the city centre, creating a highly accessible neighbourhood that addresses the historic disconnection and provides high-quality public realm and community facilities for the city.